Company Introduction
At Act Probe, in a series of operations such as research planning, field research, and the analyzing of research findings and reports, we are always thinking about providing useful information to our company clients, based on professional research utilizing our expertise and original research methods in experience of over more than twenty years.
We are becoming more diverse also to the needs sought in marketing research following the trend of the times. However, Act Probe believes that the origin of marketing research should be in any time "field research."
With this field research as our greatest strength, we promise to strive to challenge ourselves to provide our clients with the most updated information available.
| | |
| --- | --- |
| Company Name | Act Probe |
| Office Location | |
| Representative Director | Takeshi Kami |
| Establishmen | February 2013 |
| Phone | +81-48-783-5952 |
| E-mail | kami@act-pr.co.jp |
| Business Hours | 9:00-17:00 |
New research reports
The market foresight of Metal Additive Manufacturing 2020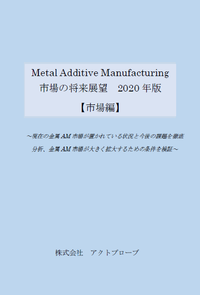 Date of release: May 25,2020
Format: 125 pages with A4 size paper
Price:
◆Printed book: 110,000 Yen
(Pre-tax price:100,000 Yen, Consumption tax: 10,000 Yen)
◆PDF(CD-R): 110,000 Yen
(Pre-tax price: 100,000 Yen, Consumption tax: 10,000 Yen)
◆Combination(Printed book and PDF): 154,000 Yen
(Pre-tax price: 140,000 Yen, Consumption tax: 14,000 Yen)
The market foresight of metal 3D printer 2015
Date of release: August 20, 2015
Format: 152 pages with A4 size paper
Price:◆Printed book: 129,600 Yen
(Pre-tax price:120,000 Yen, Consumption tax: 9,600 Yen)
◆PDF(CD-R): 129,600 Yen
(Pre-tax price: 120,000 Yen, Consumption tax: 9,600 Yen)
◆Combination(Printed book and PDF): 162,000Yen
(Pre-tax price: 150,000 Yen, Consumption tax: 12,000 Yen)
The future prospects of the metal 3D printer market 2014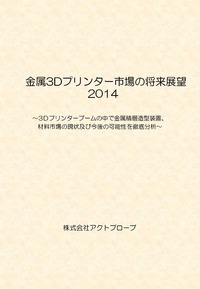 Date of release: February 5, 2014
Format: 140 pages with A4 size paper
Price:◆Printed book: 102,600 Yen
(Pre-tax price:95,000 Yen, Consumption tax: 7,600 Yen)
◆PDF(CD-R): 102,600 Yen
(Pre-tax price: 95,000 Yen, Consumption tax: 7,600 Yen)
◆Combination(Printed book and PDF): 129,600 Yen
(Pre-tax price: 120,000 Yen, Consumption tax: 9,600 Yen)
The market foresight of high intensity and lightweight materials for the next generation's automobiles 2013 - 2025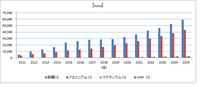 Date of release: August 30, 2013
Format: 120 pages with A4 size paper
Price:◆Printed book: 157,500 Yen
(Pre-tax price:150,000 Yen, Consumption tax: 7,500 Yen)
◆PDF(CD-R): 157,500 Yen
(Pre-tax price: 150,000 Yen, Consumption tax: 7,500 Yen)
◆Combination(Printed book and PDF): 178,500 Yen
(Pre-tax price: 170,000 Yen, Consumption tax: 8,500 Yen)